For the vast majority of individuals, doing laundry is a daily need. A washing service will always be profitable so long as people need their clothing cleaned. Consider that not everyone has access to a washing machine and dryer, much less the time or motivation to do their own laundry. Therefore, new company owners should consider the washing sector.
Theoretically, this is all well and good, but what practical steps must one take to start their own company? This manual is meant to aid on how to start a laundry business.
How To Start a Laundry Business?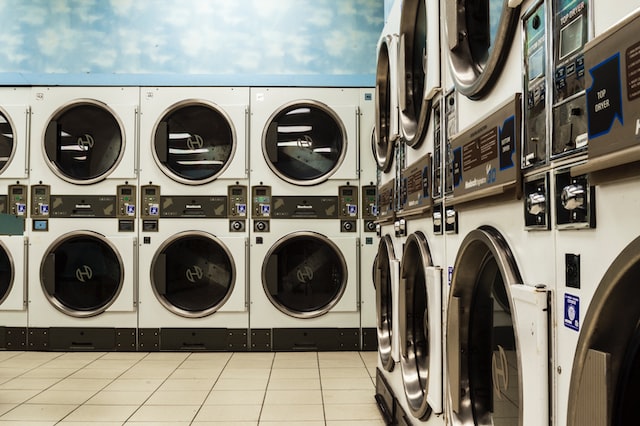 Plan for Launching a Laundry Service
Everything you need to know to launch a successful washing service will be discussed here. Even though you may be itching to get your company up and running as quickly as possible, it's important to take the necessary time to plan and set it up properly.
Determine the kind of washing service you want to provide
If starting a washing company is something you've been considering, you may already have a certain model in mind. If you haven't made up your mind yet, we'll go through a couple of the laundry business models from which you may choose.
The alternative to starting a laundromat from scratch is to invest in an existing franchise. There are advantages and disadvantages to using a franchise model for company, but if this is your first time out on your own, it might be advantageous to follow an established and proven business plan.
Decide on a Company Name
Choosing a catchy name for your laundry service is an exciting aspect of the entrepreneurial process. Get creative and think of a name that will stick out in people's minds, but make sure it accurately describes your company and is simple to say.
To see whether a potential company name is taken, you can do a quick web search in most states once you've come up with some concepts. If you need to verify the availability of a company name, the easiest place to do so is on the website of your state's secretary of state. However, in other states, the chamber of commerce is responsible for this task.
Choose a legal structure
Choosing a legal company structure for your washing service is another early choice you'll need to make. The method of taxation, the extent to which personal assets will be at risk, the structure of the corporation, and other factors all depend on the kind of business organization chosen.
You and your fellow business members may shield yourselves from legal responsibility by, say, forming a limited liability company to conduct your laundry business. A general partnership or sole proprietorship, on the other hand, will not only not provide you with liability protection, but will also exempt you from filing any paperwork with the state.
Publish a business strategy
Now that you have decided on a legal structure for your firm, have chosen a name for it, and have settled on a basic concept for it, you can begin developing a business plan. The length of your business plan will be on the higher end, anywhere between 30 and 50 pages, and it will include an in-depth overview and detailed strategy for turning your laundry service into a successful enterprise.
There is certain essential data that should be included in your business plan whether you write it yourself or use a business plan template to save time.
Get an Employer Identification Number (EIN) by registering your company
Although certain types of companies (such as sole proprietorships and general partnerships) may not be required to register with the state, the vast majority of firms will need to do so. It is possible to register a business in certain states electronically, using the website of the secretary of state or the chamber of commerce; in others, however, physical presence and the submission of paper papers are necessary. The services of a business attorney are invaluable for keeping track of the many filings and registrations that must be made on behalf of a company.
Obtain the necessary licenses and permissions
The laundry business licenses and permissions required by the state in which you want to operate will vary. In addition to more specialized licenses, including those from the health department or the water pollution control authority, you may also require a general business license.
Find a place to meet
The bulk of the groundwork for opening a washing company has been laid at this stage. And you've probably already done some groundwork for this next stage, particularly during your market research.
This being stated, you should now devote your whole attention to scouting out a suitable spot for your washing service. Finding a commercial facility is preferable, however it is possible to operate a minor business from home (such as a drop-off/pickup service).
Acquire the right tools
Now that you have a place to house your laundry company, you can focus on getting set up with the necessary equipment. It's possible that you'll need more than twenty washers and dryers for your firm.
Launch a company bank account
You're almost ready to launch your washing service, but there's still one important task left: establishing your company's bank accounts. To begin, you need register a corporate bank account to keep your professional and personal money distinct. This is crucial for a number of reasons, including streamlining tax preparation and shielding personal assets in the event of a legal claim against the firm.
Maintaining this account apart from your personal finances may also help you build a stronger company credit profile, which can be used to your advantage when applying for loans and other forms of financing in the future, such as for business expansion.
Get the word out about your laundry service
Now that you've finished reading everything, you should be well-equipped to launch your own washing service. Now that you've gotten this far, you may open your doors to consumers and begin bringing in a steady stream of new ones.
Promoting your store in the places where your ideal clients hang out is a certain approach to attract new consumers. If college students make up a big amount of your clientele, for instance, you may distribute leaflets in frequented coffee shops and student hangouts.
Once you've spread the word, you can start planning how to keep your consumers coming back. In order to keep clients occupied while they wait for their laundry to be done, several laundromats now provide free Wi-Fi or even TVs.